Original link:
There has been a new wave of fashion accessories in China. In this sub-category, there are more and more outstanding emerging Chinese independent designers and brands. Since 2016, there has been a fun accessory brand drawing a lot of attention, which has so many different ways to reinterpret glasses.
Luxe.Co interviewed Ms. Percy Lau and discover the stories behind this independent designer from Hong Kong.
Who is Percy  Lau?
She graduated from Central Saint Martins majoring in Jewelry Design, particularly interested in the relationship between human organs and accessories.
In 2013, Percy designed her graduation project "Seeing is Believing" with transparent resin materials, to explore the concept "whether what people see is true". In the same year, she participated in the International Talent Support competition, became the youngest winner of YKK Accessories Award and received great support from YKK talent program. As well in the same year, she established the same name brand "Percy Lau", exploring the international fashion circuit as a Chinese independent designer. Her design has obtained appreciation from many industry authorities including Kei Kagami, Barbara Franchin, Mihara Yasuhiro and so on.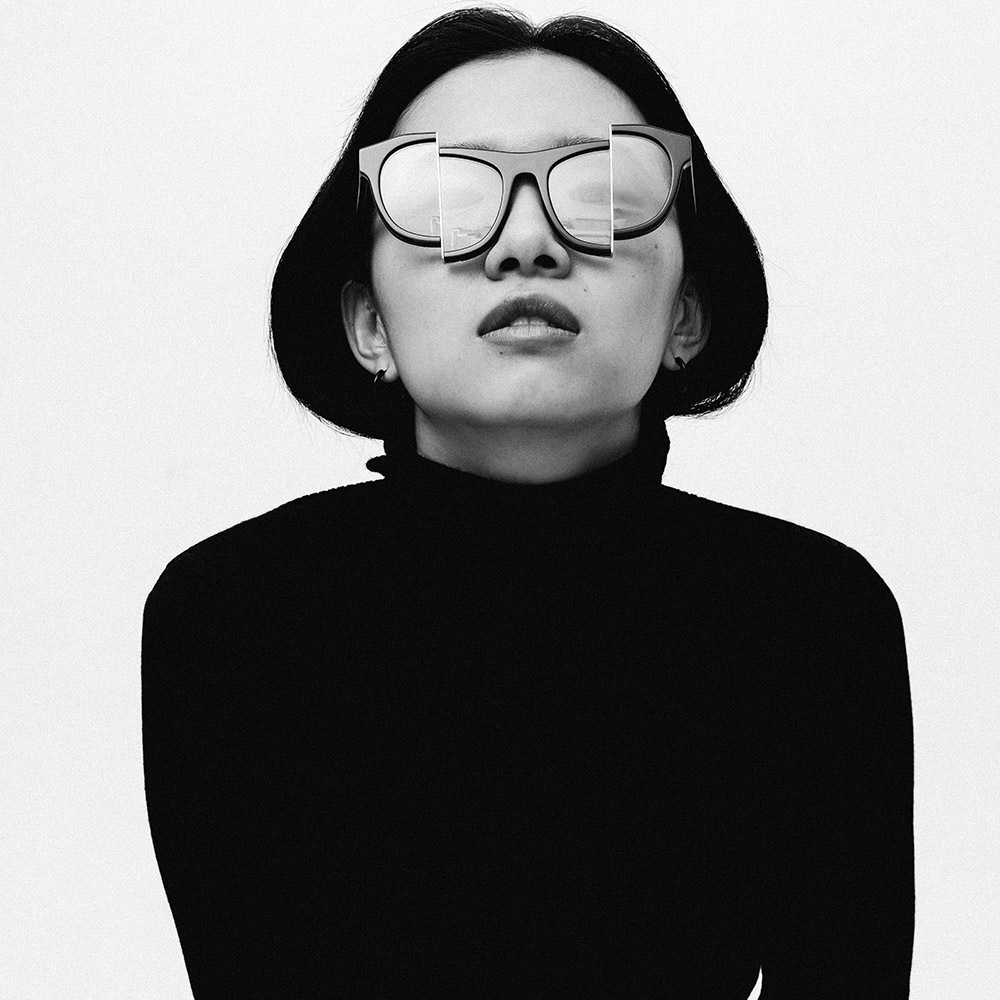 Above: Designer Percy Lau
In the styling of celebrities, bloggers and many trendy fashionistas, unique and exaggerated jewelries and glasses are more eye-catching than clothing. In recent years, Luxe.Co has observed that consumers' enthusiasm for accessories has been rising continuously in the world, and particularly in China.
Luxury brands have increasingly paid more attention to glasses. Gucci, for example, brought back the glasses business as a directly managed sector. Dior opened its first glasses specialty store in Paris and intensified the distribution control of this category. Emerging trendy brands have also been popular. For example, Korean trendy glasses brand, Gentle Monster has reached the annual sales of 200 million US dollars and obtained investments from IDG, L Catterton Asia and other mainstream investment institutions. More and more creative and design-oriented glasses stores have appeared in major shopping malls in China.
In the fierce competition, Percy Lau stood out with her bold and unique design and has gradually accumulated many loyal supporters. In addition to fans from the general public, Percy Lau is popular among celebrities in China and around the world, including Lady Gaga, Rihanna, Jessie. J, Yi Yang Qian Xiand so on. The actress Mi Yang has also styled with Percy Lau glasses in multiple looks.
There are many pretty looks, but interesting souls are rare. Percy Lau's design is the soul of the brand. Standing firmly in the fashion circuit, Percy believes that the world does not need two same brands, and one must disappear.
In addition to differentiated design , the other key factors of a brand include its core competitiveness and commercial development. Percy explained that the core competitiveness is always reflected in the most signature styles, no matter how brands play with the pricing. "We need to focus on the brand's core competitiveness." said Percy.
For many independent designers, how to balance between design and business is always a dilemma. For Percy, design is her key bargaining chip. "You will get lost in business; Therefore, I always remind myself not to disappoint my teachers." said Percy, who always remembers the reason why she started the brand.
Percy Lau's bold design is the main reason for its popularity in the fashion industry. Whether it is on the catwalk or street snaps of fashion bloggers, Percy Lau glasses are always the most eye-catching "it" items.
"Every collection is for a new definition of glasses! I love designing something unexpected." said Percy.
"Many people think that nasal support cannot be altered. They should be the regular ones. But I think why they can not to be replaced with lovely pearl nasal support. I used to think to pierce at the bridge of the nose, but my nose is not particularly high. Therefore, I thought I can change glasses and this idea of pearl came up." said Percy. At the same time, she will also take into account the actual needs of customers. She adds personalized details, such as changeable lenses in basic styles.
Because her design is different from the traditional manufacturing process of glasses, Percy Lau talked about the manufacturing of her glasses. "Our products are very special in the design. Therefore, there is a certain degree of difficulty in production. The innovative spirits of suppliers are very appreciated. Often after I design a structure, they will go back to innovate with industry standards to produce glasses."said Percy.
The current supply chain of Percy Lau is located in Shenzhen. After repeated comparison, consultation and ground fitting, Percy Lau decided to work with this manufacturer, which is highly cooperative.
Percy Lau launches a major collection every year. In this collection, there are 20% special styles, which are more avant-garde for the general public and are more complicated to produce. Another 40% will be signature styles with a good balance between design and business. They have a little exaggerated element and are manageable for general fashion fans. Another 20% are run-way styles and can be worn at regular time as well. The last 20% are collaboration styles.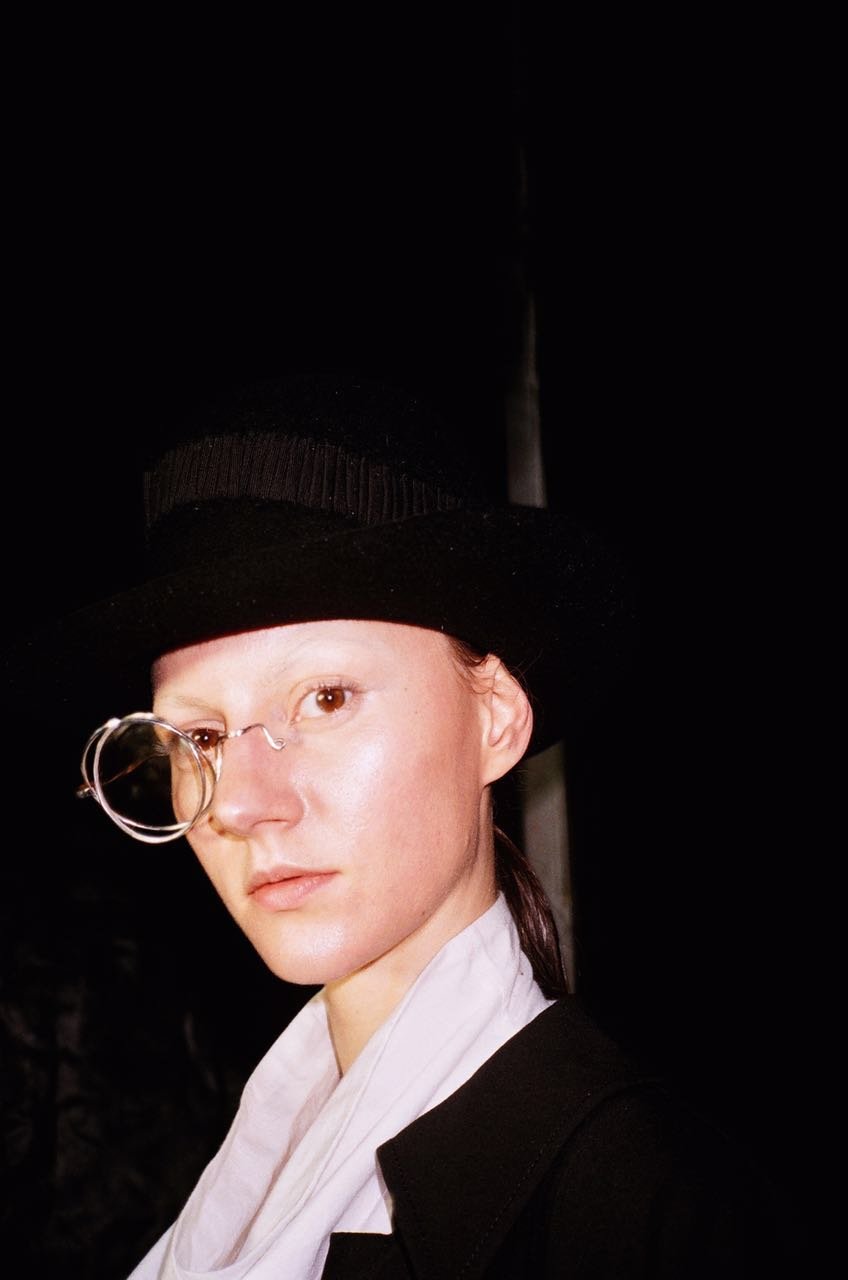 Above:Deepmoss x Percy Lau
Percy Lau's design value is reflected in the pure and extreme differentiation of the brand, which is also why she is sought after by many designers in other product categories to collaborate with.
Percy Lau launches collaboration collections with other designers and commercial brands every year. For example, she collaborated with Deepmoss, PEPSI, Peacebird last year. As well, she jointly launched with Xander Zhou for "Xander Zhou x Percy Lau 2017" collection. This has been the third consecutive year for them to launch joint collection since 2015, which has been drawing attention in the fashion industry.
For all new designer brands, the first problem is how to survive in a fast-growing business environment. This requires the founder of the brand to get products right and sell them. "I am very clear that my advantage is in product design. I am not good at other fields outside design. So I will let professional people do professional things. I give them a commission, which will inspire them to work harder and make the brand better together. Why not?" said Percy.
At present, Percy Lau is sold in more than 50 boutiques in China, U.S., Japan and other countries. Last year, the brand opened an online flagship store at TMall. More specifically, Percy launched the brand's official website at the beginning, which has a built-in sales platform. Although the sales on the website is not particularly big and cannot be compared with commercial brands, Percy thinks the sales is rather satisfactory considering the current development stage of the brand. "I am not impatient for quick results. The purpose of the website is not for sales, but for the brand image." explained Percy.
The following is a quick Q&A with Percy Lau.
Luxe.Co: What is your design concept for glasses?
Lau: Every time when I design glasses, I always think of a break-through on the design and on the industry of glasses, as well as people's existing recognition and understanding of glasses.
Luxe.Co: In addition to differentiated product design, do you have any other strategies at the product level?
Lau: Different glasses have different limited-edition colors. For avant-garde styles, we will not product a lot, in order to create scarcity. Of course, producing many avant-garde styles is difficult too.
Luxe.Co: Is there any other product categories you are interested to collaborate with?
Lau: I want to work with toy brands and mahjong producers. Of course, I love to collaborate with museums as well. Every year, I collaborate with museums as an artist. I have exhibited the mahjong I designed at museums previously.
Luxe.Co: Percy Lau's products are quite unique. What's your thoughts on the business side?
Lau: I am not a professional business person. I am rather cautious on the business side.
Luxe.Co: What's your biggest challenge for the brand at present?
Lau: Talents. We need an experienced marketing person.
Luxe.Co:As an experienced designer, would you like to provide supports for students at arts and design schools?
Lau: Yes. We're talking to the Department of Jewelry Design at Central Saint Martins on a project related to glasses design. The winner will receive a scholarship which is provided by us. We hope to find more potential designers.
Photos provided by Percy Lau
|Chinese Reporter: Han Wei